How unified are Europeans' views on the war in Ukraine?
In the short time since it began, Russia's war in Ukraine has arguably managed to override most other topics in the minds of European publics. As part of the ERC Synergy Project SOLID we set out to map public opinion surrounding the key issues in the Ukraine conflict by fielding a survey in five European countries (France, Germany, Italy, Poland and Hungary). The online questionnaire was administered by YouGov between 11 March and 5 April 2022, with a total sample size of 10,229 respondents.
Respondents were asked which challenge they think represents the most serious threat to the survival of the European Union. Figure 1 shows that more than a third of respondents, consistently across European regions, consider war as the most serious threat, followed by economic issues (poverty or disparities between member states). By contrast, pandemics and climate change – the most recent crises the EU has faced – follow at a considerable distance for all five states shown. Another interesting finding is differences in how refugees are perceived. While refugees from outside Europe are considered the most serious threat by around 15 percent of respondents in France, Hungary and Germany, only a very low percentage of respondents across member states consider refugees from EU neighbours to be a serious threat.
Figure 1. Most serious threat to the survival of the European Union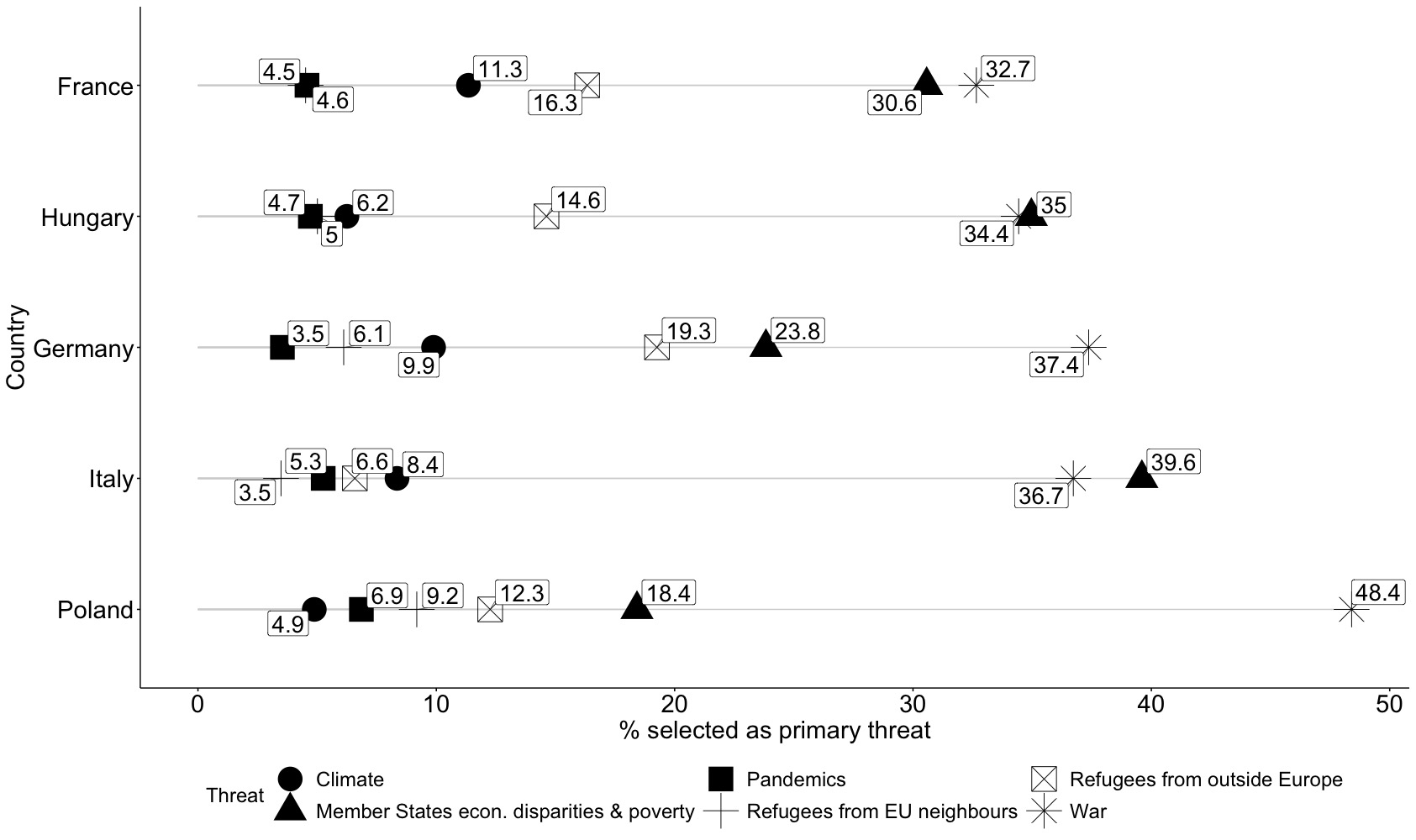 A 'rally-around-the-flag' moment
The Ukraine crisis also appears to have a unifying effect on European publics in regard to satisfaction with the crisis response, at least in the initial phase of the war. Figure 2 shows that across all European countries included in our survey and across a variety of measures, the average respondent is mostly satisfied with the response of his or her national government (left-hand graph). One interesting development is that equally high satisfaction is expressed regarding the EU's response, and it is quite stable across countries. When it comes to differences across measures, the humanitarian and refugee response are consistently the most highly evaluated, while military aid to Ukraine and sanctions against Russia score relatively lower satisfaction.
Figure 2. Satisfaction with the response to the Ukraine war
The leading policy issues: Russian gas reliance and defence capacities
When it comes to the two main policy issues debated in relation to the crisis, the reliance on Russian gas and the increase of defence capacities, the most striking divide we notice is that between Hungary and Poland.
Respondents were asked if they wished to continue or end reliance on Russia for supplies of gas, and if the latter, whether the reliance should end gradually or immediately, in their opinion. More than 56 percent of Polish respondents believe reliance on Russian gas should be ended immediately, compared to a mere 11 percent of Hungarian respondents (see Figure 3). The other three European countries included in our survey, Italy, France and Germany, fall somewhere in between and range between a third of respondents in Germany (31.4 %) to around 45 percent of respondents in France.
These differences between countries can only be partly explained by their reliance on Russian gas, as Hungary and Poland have similar reliance rates, but stand in stark contrast. Viktor Orban's relatively more pro-Russian discourse, including his reluctance to phase down Russian energy – breaking ranks with the EU – and his agreement to pay for Russian gas in roubles. The more interesting result is that the Hungarian public widely appears to share Orban's position.
Figure 3. Opinions on reliance on Russian gas
Note that the share of gas supply from Russia in 2020 to these polled countries was 49 percent for Germany; 46 percent for Italy, 40 percent for Poland and Hungary; and 24 percent for France.
When asked whether military capacities in Europe should be increased, a majority of respondents (between 60% and 95%, depending on the country) provided a positive answer. However, while in Poland this is a near consensus (90% agree to increasing military capacities), the level of agreement in Hungary is considerably lower, at about two-thirds of the respondents.
This difference is initially surprising considering that both countries share borders with Ukraine and are close to the conflict zone, but also considering Hungary's troubled history with Russia: Soviet troops invaded the country to quell an anti-communist rebellion in 1956. While Polish politicians such as Jarosław Kaczyński or Andrzej Duda have broken ranks with Putin, Hungary's Viktor Orban appears reluctant to do so – although hardly applauding Putin's actions in Ukraine. Orban has also distanced himself from other European leaders in not sending military aid to Ukraine or allowing such aid to transit Hungarian territory.
Opinions on Ukraine's EU membership
When respondents were asked whether Ukraine should be pushed through as an EU member, considered an EU candidate, or not considered a candidate at all, Poland appears as the outlier. While only a minority of respondents in other countries consider that Ukraine's membership in the EU should be pushed through rapidly or using extraordinary procedures, a third of Polish respondents (33.5%) believe that the EU should indeed fast-track the membership process.
Figure 4. Opinions on Ukraine's EU membership
A majority in all countries support Ukraine at least becoming a candidate. Hungary again seems to show the highest level of anti-Ukraine sentiment, mirroring Orban's attacks on President Volodymyr Zelensky. We cannot discern with the data at hand whether Orban is driving Hungarian public opinion in this direction, or whether he is just being responsive to the views of his electorate. What we can say is that, given his recent (April 2022) electoral win and the fact that Hungarian public seems widely to share his views on the war, Orban's pro-Russian stance is likely to be a problem for European unity on the matter.
Ioana-Elena Oana is a Research Fellow at the EUI. Her work within the SOLID project focuses on collective mobilisation, public opinion, and party competition in the multiple crises that have hit the EU since 2008. Her most recent publication is an article on COVID-19 threat perceptions in West European Politics and a report for the Robert Schuman Centre on asylum policy preference in Europe.
Alexandru Moise is a Research Fellow at EUI. His work for the SOLID project focuses on the political responses to and consequences of the COVID-19 pandemic and security threats facing the EU. He also contributes to the CIVICA Research project Welfare, Democracy, and Populism under the COVID-19 Crisis. He recently published the report Health system resilience in the context of the COVID-19 pandemic: The gap between Eastern and Western Europe.